Mt. Rushmore in South Dakota: tips, attractions and campgrounds!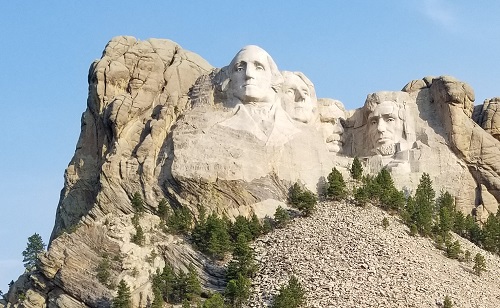 Are you going on a road trip to Mt. Rushmore, looking for tips about the destinations so you and your party can enjoy it, be comfortable and not spend a fortune?
Here are some of the attractions at Mt. Rushmore and tips about visiting.
Mount Rushmore National Memorial is a huge sculpture carved into the granite face of Mount Rushmore in southwest SD, in the Black Hills near Keystone, South Dakota. Sculptor Gutzon Borglum created the sculpture's designed and oversaw the project's execution from 1927 to 1941 with the help of his son, Lincoln Borglum. The sculpture features the 60-foot (18 m) heads of 4 U.S. presidents: George Washington, Thomas Jefferson, Theodore Roosevelt and Abraham Lincoln. Borglum chose these four presidents to represent the nation's birth, growth, development and preservation, respectively. The sculptures uses some clever tricks creating shadows to give the faces more lifelike features.
Today, the park covers 1,278 acres (2.00 sq mi; 5.17 km2) and the actual mountain has an elevation of 5,725 feet (1,745 m) above sea level.
Contact info and prices
The only fee is for parking, and you can't avoid this one.
But you can save $2 with a national parks pass.
Cars, Motorcycles and RVs

$10 per vehicle
$5 for Seniors (62 and older)
Free for Active Duty Military

Commercial Tour Bus

$50*

Verified, nonprofit Educational Bus

$25*

*Parking tickets for buses are valid for 24 hours from time of first entry. Parking fees may be paid with cash or most credit cards.
Overnight parking is not permitted within the boundaries of Mount Rushmore National Memorial.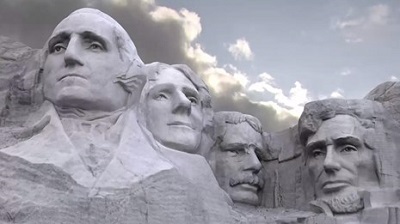 Mount Rushmore National Memorial Parking Facility
Parking is readily available in the memorial's parking complex. The parking facility is operated under a concession contract between the National Park Service and Xanterra Travel Collection. A parking ticket entitles a non-commercial vehicle unlimited entry to the memorial for one year from the date of purchase. Designated handicapped parking areas are located in both parking garages in the upper and middle levels.
No reservations are needed to visit the memorial. Parking for vehicles pulling trailers or extra-long vehicles is extremely limited. For questions concerning parking and parking fees, please call Xanterra Travel Collection at (605) 574-2515.
What to see in Mt. Rushmore
There is a visitor center, but the carving is the main attraction. Some visitors go on a hike or climb, but honestly, you can do that many place. My recommendation is see it, take the photos, walk through the visitor's center and move on to your next destination.
Mt. Rushmore Seasons, bugs, topography and climate
In the summer, it tends to be semi-arid, hot during day and cool at night. The two wettest months of the year are May and June. There may be brief but strong afternoon thunderstorms during the summer.
Winters can be brutally cold. Many roads are closed or impassible in the winter. Bugs are thankfully few!
Mt. Rushmore Camping tips
First, get reservations ASAP. Local campgrounds usually fill up weeks in advance during peak summer months and especially in mid-August when the Sturgis bike rally is held nearby. Prices are about $30 a night; $21 if you have the national park pass and stay in a national park campground.
Campgrounds near Mt. Rushmore in South Dakota
Kemps Kamp is a campground that is just a few miles away. It's pleasant and there is a swimming pool. Bathhouses are adequate, but nothing to write home about. Unfortunately the sites are close to the road and Harley bike riders with their obnoxiously load pipes can make sleep difficult when they go by early in the morning or late at night.
South Dakota has both state parks and private campgrounds.