Yosemite National Park in California: tips, attractions and campgrounds!
Are you going on a road trip to Yosemite National Park, looking for tips about the destinations so you and your party can enjoy it, be comfortable and not spend a fortune?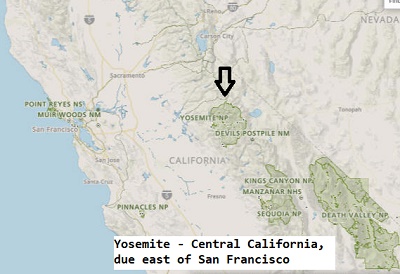 Here are some of the attractions at Yosemite and tips about visiting.
About Yosemite
Formed in 1864 when President Abraham Lincoln signed a bill to protect it, Yosemite has incredible natural wonders to see and many things to do! The park, located in eastern central California is surrounded on the southeast by Sierra National Forest and on the northwest by Stanislaus National Forest. This National Park covers an area of 748,436 acres (1,169 sq mi; 3,029 km2) and sits in four counties: centered in Tuolumne and Mariposa, extending north and east to Mono and south to Madera County. The park is home to granite cliffs, waterfalls, clear streams, giant sequoia groves, lakes, mountains, meadows, glaciers, and incredible views and wildlife.
Contact info and prices
Reservations are required due to COVID to drive into Yosemite National Park beginning May 21. If you have another reservation in the park, you may not need a day-use reservation and can pay the entrance fee at the park entrance station. You do not need a day-use reservation if: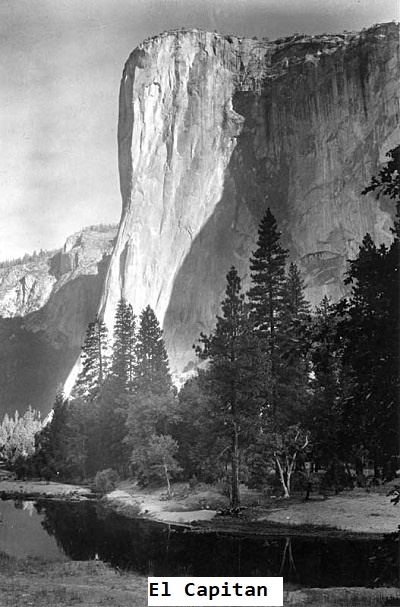 you have a camping or lodging reservation
you have a wilderness or Half Dome permit
you have a vacation rental inside the park
you enter via the local public transit system (YARTS buses)
you enter with an authorized tour
Entrance Fees
Remember,, the NPS annual passes will save you money at ALL national parks, including Yosemite; see this page! All park entrances (except Hetch Hetchy) are open 24 hours per day. If the entrance station is unstaffed when you arrive, you can pay on the way out. Currently, due to COVID (hey, it IS in California) they only accept credit cards.
Seven-day pass if entering via: from May 21 through September 30, this will be a three-day pass (but will be valid for the duration of an overnight reservation inside the park for the duration of that reservation, even if it's more than three days)
Non-commercial car, pickup truck, RV, or van with 15 or fewer passenger seats
$35 per vehicle (no per-person fee) (credit card only).
Motorcycle
$30 per motorcycle (no per-person fee) (credit card only).
Foot, bicycle, horse, or non-commercial bus or van with more than 15 passenger seats
$20 per person aged 16 or older.(credit card only).
(Fee waivers may be available for curriculum-based educational trips.)
Tourist/Visitor Information
P.O. Box 967
Mariposa, CA 95338
Phone: (209) 966-7081 or (866)-425-3366.
Email: info@yosemite.com.

What to see in Yosemite
El Capitan and the Half Dome - Giant rock formations popular with hikers and rock climbers.
Waterfalls: Yosemite is famous for its waterfalls, especially during the Spring snowmelt during April, May, and June. I

n

Yosemite Valley, the Yosemite Falls is the highest in North America at 2,425 feet (739 m). Vernal Falls (photo at right) is almost 300 ft tall. Also in Yosemite Valley is the much lower volume Ribbon Falls, which has the highest single vertical drop, 1,612 feet (491 m). Also in the Yosemite Valley waterfalls is Bridalveil Fall, which is the waterfall seen from the Tunnel View viewpoint at the east end of the Wawona Tunnel and Horsetail Fall

; which usually only flows in the winter.

The giant Sequoias - Massive trees, with the famose dead giant that had the tunnel carved through it in the early 1900's. The California Tunnel Tree was carved out in 1895 before people knew that was harming the trees. Yosemite National Park's massive giant sequoias (Sequoiadendron giganteum) live in three groves in the park. The most easily accessible of these is the Mariposa Grove near the park's South Entrance, off of the Wawona Road (Highway 41). Two smaller, less visited groves are the Tuolumne and Merced groves near Crane Flat. The Mariposa Grove contains about 500 mature giant sequoias.
DIRECTIONS: Use the two-mile Mariposa Grove Road, which is open from approximately April through November. Giant sequoias can live more than 3,000 years and are the third longest-lived tree species with the oldest known specimen to have been 3,266 years old in the Converse Basin Grove of Giant Sequoia National Monument. Yosemite's famous Grizzly Giant in the park's Mariposa Grove is best estimated to be about 3,000 years old plus or minus a few centuries, which is nothing to a giant sequoia. Scientists currently rank the Grizzy Giant's large size, or volume, as No. 25. (The largest Sequoia tree by volume is the General Sherman tree in another park; Sequoia National Park.)
Things to do:
The Yosemite Zipline and Adventure Ranch,, offers ziplining on six different courses, aerial ropes courses, roping lessons, gold-panning and more. The ziplines at Yosemite Ziplines and Adventure Raanch have been constructed as a 2 hour, six stage guide-led tour. Groups of eight to ten are geared up in helmets and harnesses, then driven up the mountain in Polaris Rangers as their guides explain safety procedures and describe the experience the zippers are about to enjoy.
Skiing: Yosemite Valley is open all year, although some roads within the park close in winter. Downhill skiing is available at the Badger Pass Ski Area from mid-December through early April. Much of the park is open to cross-country skiing and snowshoeing, with several backcountry ski huts open for use. Wilderness permits are required for backcountry overnight ski trips.
Yosemite Seasons, bugs, topography and climate
Yosemite has a Mediterranean climate it is dry most of the year and rains in the winters, which are mild. Summers are long and hot. Daily temperatures range from 36 to 67 °F (2 to 19 °C) at the entrance to the park and at the lower elevations below 5,000 feet (1,500 m), temperatures are hotter; the mean daily high temperature at Yosemite Valley (elevation 3,966 feet or 1,209 tres) varies from 46 to 90 °F (8 to 32 °C).
At the park headquarters, with an elevation of 4,018 feet (1,225 m), January averages 38.0 °F (3.3 °C), while July averages 73.3 °F (22.9 °C), though in summer the nights are much cooler than the hot days.
Bugs are thankfully few!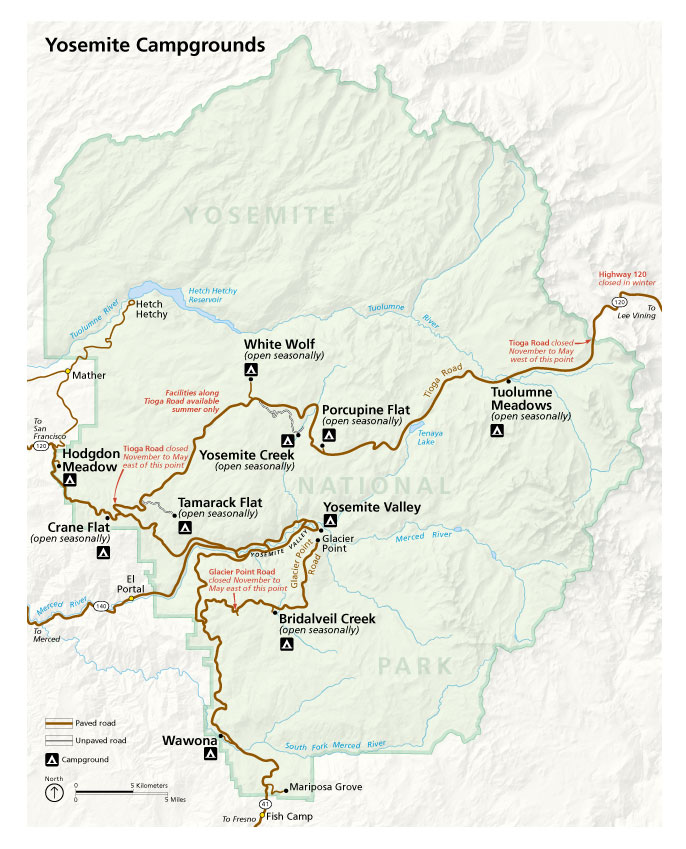 Lodges
If you don't want to camp, you can find Yosemite area lodging here.
Yosemite Camping tips
First, get reservations ASAP. They usually fill up weeks in advance. And while there are a few last minute cancellations, those go instantly. Prices are about $30 a night; $21 if you have the national park pass and stay in a national park campground.
Campgrounds near Yosemite in California
This page identifies many campgrounds in the Yosemite area.
Campground

Open

tentatively
in 2021

Elevation

Maximum




RV Length/




Trailer Length

Reserve?

Daily




Fee

Sites

normal
operations
(in 2021)

Accessible Sites

for people with disabilities

Water

Yosemite Valley

All year

4000 ft/1200 m

35 ft/24 ft

Yes

$26

238
(137)

10

Tap

Apr 19–Oct 25

4000 ft/1200 m

40 ft/35 ft

Yes

$26

60
(64)

5

Tap

Apr 15–Oct 25

4000 ft/1200 m

40 ft/35 ft

Yes

$26

81
(58)

5

Tap

Late May

4000 ft/1200 m

No RVs/trailers

Late May–early Sep

$6/
pers.

61
(25)

0

Tap
Pets not allowed




South of Yosemite Valley

Jun 15–Oct 25

4000 ft/1200 m

35 ft/35 ft

Jun 15–Oct 25


$26

93
(72)

2

Tap

Jul 15–Sep 6

7200 ft/2200 m

35 ft/24 ft

Yes

$26

110
(83)

0

Tap


North of Yosemite Valley



Closed in 2021

4900 ft/1500 m

35 ft/30 ft

Yes, but closed in 2021

$26

105
(0)

0

Tap

Closed in 2021

6200 ft/1900 m

35 ft/35 ft

Yes, but closed in 2021

$26

166
(0)

2

Tap

Closed in 2021

6300 ft/1900 m

RVs/trailers not recommended

Closed in 2021

$12

52
(0)

5

Creek
(boil)

Closed in 2021

8000 ft/2400 m

27 ft/24 ft

Closed in 2021

$18

74
(0)

0

Tap

Closed in 2021

7700 ft/2300 m

RVs/trailers not recommended

Closed in 2021

$12

75
(0)

2

Creek
(boil)

Closed in 2021

8100 ft/2500 m

RVs/trailers not recommended

Closed in 2021

$12

52
(0)

4

Creek
(boil)

June 21–Sep 20

8600 ft/2600 m

35 ft/35 ft

Normally 50% (100% in 2021)

$26

304
(137)

7

Tap
(Closing dates refer to the day the campground closes; the night before that is the last night to camp.)
Backcountry campgrounds at Little Yosemite Valley and near the High Sierra camps (Glen Aulin, May Lake, Sunrise, Merced Lake, and Vogelsang) are not part of the campground reservation system. A wilderness permit is required to stay at these campgrounds.
High Sierra Camps themselves and Housekeeping Camp are lodging facilities managed by Yosemite Hospitality.
California has both state parks and private campgrounds..
More resources
The NPS has a vacation planner guide is full of great tips and ideas of things to do in Yosemite and Mariposa County. Start planning your Yosemite vacation today by clicking here: (Download Yosemite Vacation Planner PDF) to download the digital version of the planner. For more helpful info to plan your trip signup for the Yosemite Mariposa Countynewsletter.