Connecticut destinations, parks and attractions
Are you going on a road trip to Connecticut, looking for tips about the destinations so you and your party can enjoy it, be comfortable and not spend a fortune?
Here are some of the top destinations in Connecticut and tips about visiting them
National parks and monuments in Connecticut
Appalachian National Scenic Trail, Maine to Georgia, CT,GA,MA,MD,ME,NC,NH,NJ,NY,PA,TN,VA,VT,WV.


The Appalachian Trail is a 2,180+ mile long public footpath that traverses the scenic, wooded, pastoral, wild, and culturally resonant lands of the Appalachian Mountains. Conceived in 1921, built by private citizens, and completed in 1937, today the trail is managed by the National Park Service, US Forest Service, Appalachian Trail Conservancy, numerous state agencies and thousands of volunteers.

Coltsville National Historical Park:, Hartford, CT.


When Samuel Colt started his Hartford factory on the banks of the Connecticut River in 1847, it followed years of mismanagement and failure. Soon, demand for Colt's revolver would change his fortunes and the Colt empire was born. Following Colt's untimely death in 1862, his wife, Elizabeth Colt, would lead the company to its legendary status, and influence Hartford for over 40 years.

New England National Scenic Trail, MA,CT.


From the Sound to the Summits: the New England Trail covers 215 miles from Long Island Sound across long ridges to scenic mountain summits in Connecticut and Massachusetts. The trail offers panoramic vistas and close-ups of New England's natural and cultural landscape: traprock ridges, historic village centers, farmlands, unfragmented forests, quiet streams, steep river valleys and waterfalls.

Washington-Rochambeau Revolutionary Route National Historic Trail, MA,RI,CT,NY,NJ,PA,DE,MD,VA,DC.


In 1781, General Rochambeau's French Army joined forces with General Washington's Continental Army to fight the British Army in Yorktown, Virginia. With the French Navy in support, the allied armies moved hundreds of miles to become the largest troop movement of the American Revolution. The effort and cooperation between the two sides led to a victory at Yorktown and secured American independence.

Weir Farm National Historical Park:, Ridgefield and Wilton, CT.


Visit the home and studio of America's most beloved Impressionist, J. Alden Weir, and walk in the footsteps of generations of world-class artists. Set amidst more than 60 acres of painterly woods, fields, and waterways, you'll soon see why Weir described his home as the "Great Good Place." Weir's farm is a national legacy to American Impressionism, the creative spirit, and historic preservation.
Connecticut State parks and historic sites
Connecticut Seasons, bugs, topography and climate
Although Connecticut is a small state, it still has 2 climates: northern Connecticut has cold winters with moderate snowfall and hot, humid summers. Far southern and coastal Connecticut has cool winters with a mix of rain and infrequent snow, and the long hot and humid summers typical of the middle and lower East Coast.
Connecticut Camping tips
Connecticut offers campgrounds, including sites with
rustic cabins
, in thirteen state parks or forests. Select a campground from the map or use the list
below
.
Reservations for all state campgrounds are available
online at Reserve America
or by calling toll free 1-877-668-CAMP (2267).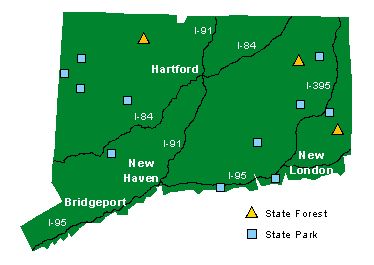 Parks with Camping Areas:

Black Rock
|
Devil's Hopyard
|
Hammonasset Beach
|
Hopeville Pond
Housatonic Meadows
|
Kettletown
|
Lake Waramaug
|
Macedonia Brook
Mashamoquet Brook
|
Rocky Neck
|
Salt Rock
|
Wolf Den

Forests with Camping Areas:

American Legion State Forest
|
Pachaug State Forest
Horse Camping Areas:

Natchaug State Forest
|
Pachaug State Forest
Rustic Cabin Rentals:Housatonic Meadows
|
Kettletown
|
Black Rock
|
Lake Waramaug
|
Hammonasset Beach
|
Rocky Neck
|
American Legion State Forest
|
Hopeville Pond
Other camping:
Youth Group Camping
River Camping
Backpack Camping
There are both state parks and private campgrounds in Connecticut.